First off, I'm not sure if this thread belongs in this forum ...I'm somewhat new and apologize if it is.
Second off, I haven't found a single thing online regarding this fix nor instructions/photos on how to fix this so I apologize if I am just repeating something that I haven't come across.
Anyways...just what the title says...after years of having my 05 Five Hundred's Cluster constantly short out, freeze, and meters pin to 0 a few times every couple of minutes like so many others have...I've finally gone ahead and tried to diagnose the problem on my own. I'm quite good at electronics and component level soldering therefore I figured I'd give this a shot.
And just like the Ford TSB 06-17-9 diagnosis said "possible bad solder joint" this actually turned out to be true.
Sorry for the pics...I tried my best to get the best pics possible with an iphone but you know how that goes sometimes...
Here's a look at the back of the Cluster. There is a plastic cover that covers the electronics. It's hot glued onto the circuit board. In certain points, quite literally, its hot glued over components...so be careful not to yank to hard. Carefully and slowly peel away....take your time!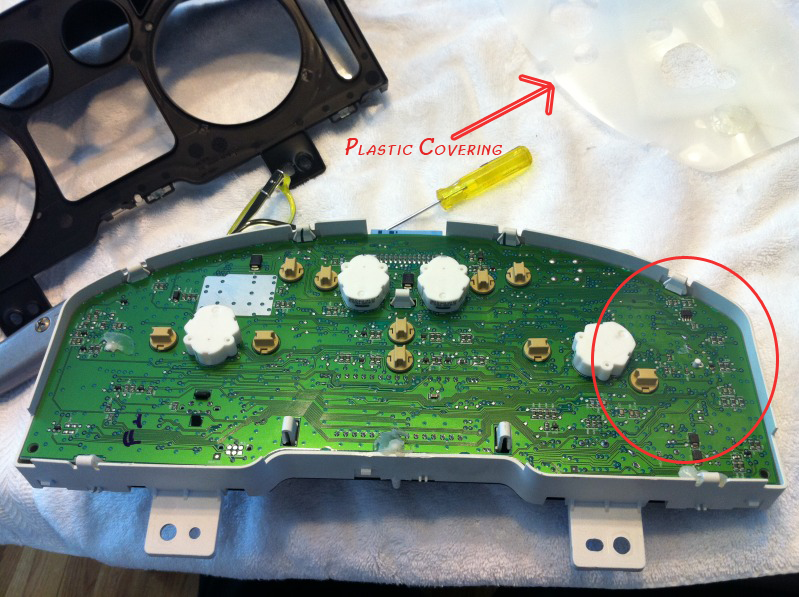 This is the zoomed in view of the circled section in picture 1. The circle in this photo indicates the pad with the bad solder joint. This component has hot glue covering it, so you will need to peel it off carefully to gain access to the solder joint.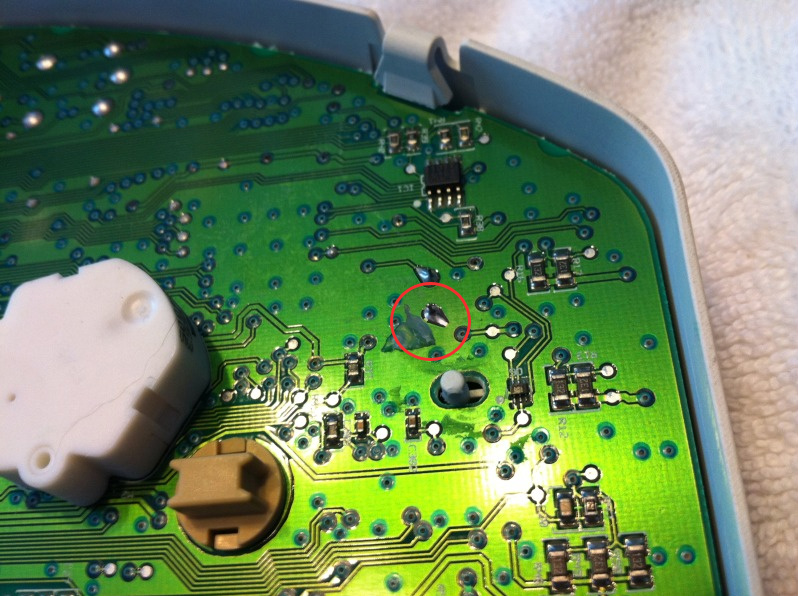 Here's the "best" photo I could get of the cold solder joint. The black shadow where the component's lead protrudes out of the solder joint is where the fault occurs. It's really hard to see with the naked eye but you could feel the component itself has a slight movement to it...indicating that there isn't a secure solder connection.. Therefore any vibration while driving will give you these intermittent dropouts
Throw some solder on that guy to make sure that the connection is solid and you've fixed the issue!! It's worked for me ever since..and it's been a few months. No dropouts whatsoever.
There goes your 500 dollar (or whatever it costs) bill to replace the cluster and have the Ford technicians program it. It took me about an hour to an hour and a half to take the dash apart, diagnose, solder, and reconnect everything back up. Should take you less than a half hour now that you know what to look for.
The only recommendation I have is that you be very careful not to move the gas and speed dials on the front...or else you'll have to recalibrate those...which are a real pain to do. So word to the wise, be careful not to touch them
Hope this helps!